Nov 22, 2017–'Tis the season of nutcrackers, ballerinas, and dancing sugarplums, whatever those are.
So of course Regan Mann of Fredericksburg Dance Company wanted to toss a little grinchiness into this sometimes syrupy season.
Sure, her dancers will offer a Nutcracker Ballet. But she is adding a different seasoning for audiences–a show with tap dancing.
Trouble is, most people have never seen it presented live in "nonrecital" form.
"They think it is a bunch of buffaloes," she said with a laugh. "Unless you are of an age to remember Fred and Ginger, or the Nicholas brothers, you don't know what tap dance is."
Mann thought the best way to feature tap dance would be in a holiday show with a touch of humor. Fred and Ginger, meet Max and the Grinch. Mann has adapted Dr. Seuss's evergreen story How The Grinch Stole Christmas. She considers it the perfect vehicle to pair with tap for a stage production.
"A recital is dances and steps," she said. "It is a completely different forum to learn and rehearse a production. Every step on stage is a tap step. You never walk, you have to use your feet as instruments, and your character has to be related through that. You make music with your feet so people know what is happening. You are going to hear another side of the music, but with feet."
And fear not, traditionalists, you will still be able to see a production of The Nutcracker. Mann is re-visioning the classic as the other half of her Christmas show. In fact, this year's version is completely different from any they've done before.
"There are tons of Nutcrackers, and I've seen them all and love each one," said Mann, who grew up in her mother Rhonda's dance studio. "But I tried to think how to make it different for our community, so that you can go see the San Antonio and Austin versions, and still come see ours."
She imagined a different storyline, with the focus on Drosselmeyer's magic, bringing the characters to life.
A real plum is the return of Julia Langenberg, a recognized aerial performer based in San Antonio. She will be featured as the Snow Queen, using drapes to suspend above the stage and take the dance literally to another level.
As the majority of FDC dancers are ages 9 to 12, a challenge for Mann and ballet teachers Helena Sommers and Barclay Hammond is to keep it fun, while reminding them that dance is their "job."
"They have to learn to focus and to know what is expected in a show versus a recital," she said. "Even the smallest ones can understand that people have to pay to see them. But when you do those things that are expected, it is really fun."
While the holiday show is the icing on the cake, Mann wants Fredericksburg Dance Company to be more about baking the cake. Over the years, FDC and Ms Rhonda's School of Dance have seen an impressive number of students go on to study, perform, or teach dance. Mann wants to use any proceeds to continue to build her program, bringing in more professional clinics and allowing students to travel to workshops.
Meanwhile, she hopes you enjoy the show.
"Each act is only 30 minutes, and you get ballet, aerial, tumbling, acrobatics, tap, and a contortionist. It's not just kid oriented either. Bring your grandparents too!"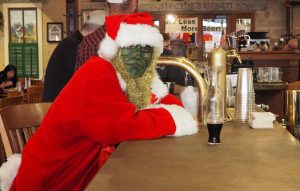 Oh. And if you think The Grinch bears a resemblance to a certain columnist, you would not be wrong.
Hey, typecasting.
Details:
Fredericksburg Dance Company presents The Grinch! Tapped Into Christmas, and The Nutcracker, Nov 30–Dec 3, 2017. Shows Thurs–Sat at 7:30 p.m., Sun at 2:00 p.m.
Tickets can be purchased online at www.fredericksburgtheater.org or by calling 888-669-7114.