Order my books here…
Finding Fredericksburg: Self-guided tour of historic Fredericksburg TX
100 color photos of distinctive historic homes and buildings, with a 1-page description of why they are important, plus interesting trivia about this famous Hill Country town. Get it on Amazon!
---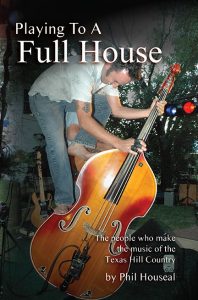 Playing to a Full House: The People Who Make the Music of the Texas Hill Country
60 profiles of the famous (Ray Price, Larry Gatlin, Michael Martin Murphey), Texas famous (Erik Hokannen, Ponty Bone, Jim Cullum, Stephanie Urbina Jones), and the Never Will Be Famous. Get it on Amazon!
---
Sam Has Ants
Sam has a problem… too many ants! How can he get rid of them? The answers will delight and surprise youngsters ages 3 to 7. Colorful and imaginative illustrations by a teen artist highlight this story, with a surprise ending that will entertain adults as well as kids. Get it on Amazon!
---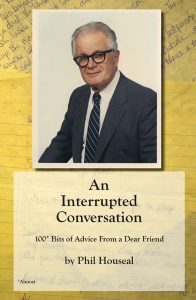 An Interrupted Conversation
What a treasure if someone you admired could leave you with 100 pieces of their best advice. That is what the author asked his friend Dick to do. To his surprise, Dick responded with pages and pages of handwritten advice on yellow legal paper. These terse statements are gruff, at times caustic, unexpectedly touching, but always sincere. And an unexpected twist will make this book intensely personal to everyone who picks it up. Order it here!
Visit Phil Houseal's Amazon Author Page
---
And songs…
Rocky Mountain Oysters Copyright Phil Houseal, Performed by Bill Smallwood Band
Download Link {https://fullhousepr.com/wp-content/uploads/2022/06/Rocky-Mountain-Oysters.mp3}
Fredericksburg Phone Book Polka, Copyright 1987 Phil Houseal
Download Link {https://fullhousepr.com/wp-content/uploads/2022/08/Phone-Book-Polka.m4a}
Depression Polka, Copyright 1994 Phil Houseal
Download Link {https://fullhousepr.com/wp-content/uploads/2023/09/Depression-Polka-Inst.m4a}