Mar 4, 2020–For Pat Green, writing songs and sculpting bronzes are not that different.
"I'm telling the truth. I just want to tell it in different ways."
The chart-topping American Texas Country artist known for his hit Wave on Wave will reveal another side of his artistry this Friday evening at a special showing at InSight Gallery in Fredericksburg.
There he will be displaying some of his traditional western bronzes for the gallery's Annual Texas Masters Show.
For Green, creativity is all about "seeking the edge," no matter the medium.
"Where the edge just comes naturally in music, I have to actively seek it when making art. I have to find the edge. When you get excited about writing a song, you go holy moley. When I wrote Wave On Wave, I knew I'd written Wave on Wave. Songwriting is telling the truth. But so is sculpture. It's telling the truth. But it has to be your truth. No matter what it is, it's what you really feel."
Green has painted and sculpted for 10 years. But in that time, he has built a following, opened GalleyWinter Art Gallery in Fort Worth, and will be one of the featured artists at InSight Gallery in Fredericksburg on March 6. Gallery owners Elizabeth and Stephen Harris are excited to host him, for both professional and personal reasons.
"We are excited to see him pivot into this creative outlet," said Elizabeth Harris, who has known Green since before he ever picked up a guitar and performed on stage. They all went on to work together in the music business. Bringing in Green is a way to introduce his work into the more traditional and western art market.
"It's a different outlet for him and his artwork," she said. "We are helping him expand his reach into that art world."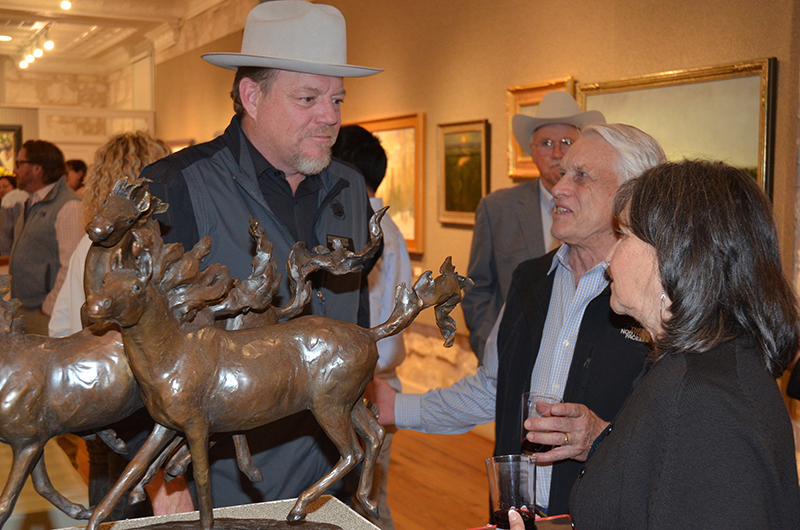 It may be a new world for Green, but it is one he is quickly embracing.
"When I saw this art come out of my own hands, I thought, wow, I can do it," Green said. "Not only can I do it, but I can do it again. It took me a long time to get to that point."
Many artists who try to take their talent into a new field often suffer the taunts of those on the sidelines who parrot "stay in your lane." If you are familiar with the raw honesty of Green's songwriting, you might guess that doesn't bother him.
"Sure, I've heard it–you're a better songwriter than painter. Well, at least I did both. I don't really care. That's just human nature–we like to judge. If I win, I don't care. I got my ass kicked plenty of times. Bloody or not, I got in the fight."
All that matters is to create something every day.
"If you are a creative person, and you stop being creative, it's your own fault–you're wasting your time. My wife will ask what are you doing today? I say, I don't know, sit around and make sh*t up. It's not profound. I make up sh*t. That's it. That's my whole job. I'm unemployed for a living."
Details:
Pat Green will display his sculptures at InSight Gallery's 11th annual Texas Masters show this Friday, March 6, during a reception from 6-8 pm.
In addition to their 20 Texas-based gallery artists, also participating are guest artists Tyler Crow–the youngest member of the Cowboy Artists of America, and Tony Pro–figurative painter and former director of the Coppini Academy of Fine Arts.
InSight Gallery, 214 W Main Street, Fredericksburg