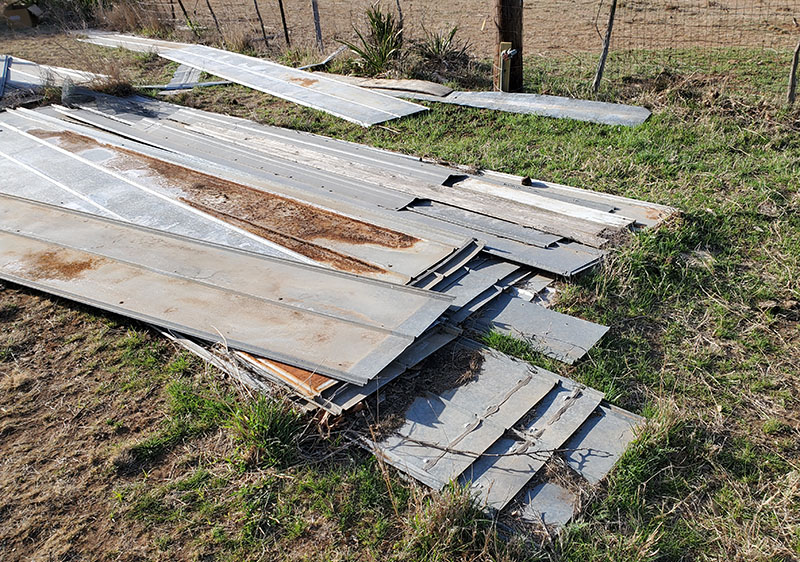 April 6, 2022–I once wrote a song about turning "good things" into "bad things." Called it "You Sure Done a Good Job, But You Sure Done It Wrong." [Posted below]
But I have gained wisdom. Stealing inspiration from the first chef that burned a pan of fillets and re-christened them "blackened catfish" and charged extra, I've been searching for occurrences in life where it is possible to turn "bad things" into "good things."
Doing so is really all in the attitude.
For example, when I had my roof repaired, I asked the workers to stack the old sheets of tin off to the side in my yard. I was thinking to move or sell them quickly, but eight years later they lie there still.
I recently moved one of the stacks, only to find it left a large patch of bare dirt. All the grass had long ago burned off. My reaction: Bad Thing–What an ugly scar on my lawn.
Upon reflection, I realized it was also a Good Thing–I had less lawn to mow.
To what other road bumps in my life could I apply that template?
I went back to when kids competed in sports, they sometimes came home after a meet crushed they had lost a tennis match. Their coach taught me how to handle that.
Bad Thing–You lost.
Good Thing–Now you know what you need to work on to win next time.
We've had two cars totaled in our family.
Bad Thing–You totaled your car.
Good Thing–Now you get to buy a new one.
Everyone has experienced the disappointment of not getting a coveted job. That's a little tougher than not winning the lottery. But…
Bad Thing–You didn't get the job.
Good Thing–The number of opportunities for a different job is now limitless.
Bad Thing–A student with test anxiety arrives at class to discover there is a Pop Quiz scheduled.
Good Thing–Said student has no time to be anxious.
This rubric can arise to give solace in unexpected situations. When my father died, it was definitely a Bad Thing. But even while processing that deep loss, I remember having the brief, silly, inappropriate thought: Well, at least I don't have to buy any more Father's Day gifts.
That is a horrible thing to admit. But the point is your psyche strains to find something Good in everything Bad.
While searching for examples to back up my lame premise, there is one I am struggling with. As I finish writing this column, I notice I am on my last bottle of whiskey. I'll get back to you when I find the Good in that.
===
YOU SURE DONE A GOOD JOB
1981 PHIL HOUSEAL
G
WHEN I WAS A KID ON MY DADDYS FARM I USED TO BEG TO LEND A HAND
A D7
SO ONE DAY HE LET ME BUILD SOME FENCE, JUST TO SHOW I WAS A MAN
G
HE WATCHED ME WORK ALL AFTERNOON AND WHEN I WAS NEARLY THROUGH
D7 G
I TURNED AROUND AND STOOD UP PROUD AND SAID, "DADDY HOW DID I DO?"
===
CHORUS: AND HE SAID…
G
YOU SURE DONE A GOOD JOB, 'BOUT THE BEST I EVER SAW
A D7
AND YOU DESERVE TO BE REAL PROUD OF WHAT YOU WORKED ON FOR SO LONG
G
BUT BE SURE AND START ALL OVER JUST AS SOON AS YOU ARE DONE
D7 G
CAUSE YOU SURE DONE A GOOD JOB BUT YOU SURE DONE IT WRONG
===
I LEFT THE FARM AND JOINED THE ARMY, THE OLD RED, WHITE, AND BLUE
ONE DAY WE HAD INSPECTION JUST TO SHOW WHAT WE COULD DO
EVERYTHING WAS IN ITS PLACE, JUST SHINING LIKE BRAND NEW
THE SERGEANT TOOK ONE LOOK AT ME THEN PUT ME IN MY PLACE TOO… (CHORUS)
I LEFT THE ARMY SHORTLY AND FOUND MYSELF A WIFE
I GUESS I FIGURED MARRIED LIFE WAS ONE THING I'D DO RIGHT
BUT THE FIRST NIGHT OF OUR HONEYMOON AS WE LAY SIDE BY SIDE
I HEARD AGAIN THOSE AWFUL WORDS THAT I'D HEARD ALL OF MY LIFE… (CHORUS)
I COULDN'T LIVE MY LIFE THIS WAY, I DECIDED TO END IT ALL
I HELD A GUN UP TO MY HEAD AND I SHOT AND HIT THE WALL
I TRIED BOOZE AND BROADS AND ROPES AND PILLS AND KNIVES AND RAZOR BLADES
BUT EVERY TIME I KILLED MYSELF I HEARD ST. PETER SAY… (CHORUS)