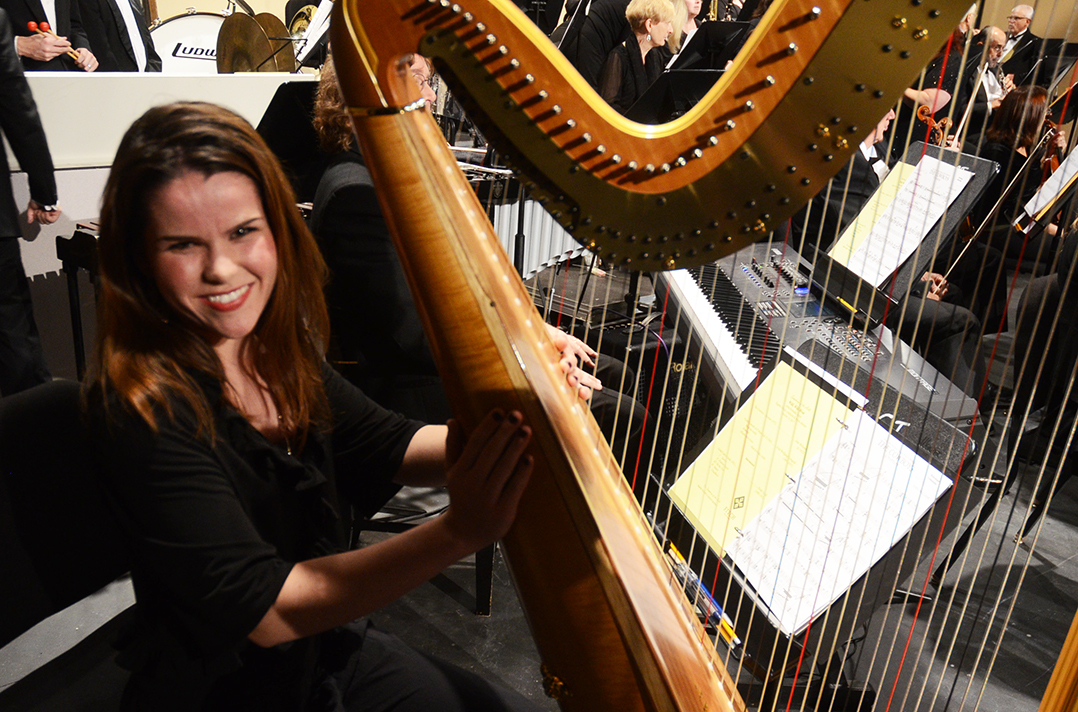 Jan 25, 2023–One of the oldest music clubs in Texas will host one of the younger artists in the Hill Country, when Emily Jumes Oskins performs a harp concert for the Fredericksburg Music Club on February 19.
Let's start with the Fredericksburg Music Club (FMC). It was founded in 1937 as the Music Study Club. That led to a surprise when Mark Eckhardt, President, was contacted by a state employee on the organization's 80th anniversary.
"When the state issued a proclamation for our 80th anniversary, they informed us the Fredericksburg Music Club was the 23rd-oldest music organization in Texas," Eckhardt said. I mean, there are some heavy hitters there, such as the Fort Worth Symphony. It's pretty amazing that we've been around for that long. We actually have the original program from a concert in 1937, so we have good documentation."
That documentation shows the original purpose of the "women only" club was to "promote culture" by sharing classical music.
They eventually allowed in men and began bringing in outside performers. While the roster has included world-class performers, the club is proud to feature local artists on a regular basis. In past years those have included Ava Pine, soprano from Fredericksburg; the 4 Proches (now called Willow City); Donald Braswell, tenor and America's Got Talent competitor from Boerne; the Hill Country Youth Orchestra from Kerrville; Anne-Marie Houy Shaver, flute player from Fredericksburg; and Sabrina Adrian, organist from Kerrville.
This will be Emily Jumes Oskin's first "official" concert in front of her hometown crowd.
"It's right around the corner, and I'm excited," she said. "I can't wait to share this music with my community."
Part of her excitement stems from the fact she'll be sharing the stage with her brother, Collin Jumes, who is a baritone now finishing his senior year as a vocal performance major at Abilene Christian University. For the FMC concert, Collin will join his sister in an eclectic program that will cover every style from opera to pop.
"The concert will be a mix of classical and pop-type tunes," Emily said. "Maybe a little Broadway, but nothing too operatic. And maybe a little Elvis. Collin has a range of styles, and he's really very talented. It'll be fun."
While the musical program is still being set, a few of the tunes demonstrate that diversity of genres. The audience will hear Sonatinas for Harp, Bridge Over Troubled Water, Danny Boy, Edelweiss, Amazing Grace and The Lord's Prayer, and of course, the Elvis medley.
Emily's journey to concert harpist is fascinating. It actually began at the Fort Worth Symphony, where Emily's parents took her to a concert when she was 4 years old. The only instrument the girl could see on stage was the harp. After the concert, she confidently announced that was the instrument she was going to play.
Her first lesson was less than optimal, as the teacher declared she would have to come back "when her arms reached the strings." When she grew into her first instrument, the family turned into willing "harp haulers" getting the young girl to the few harp instructors to be found in these parts of Texas.
Emily continued her training, studying music at Schreiner University, performing with Symphony of the Hills and Symphony Viva, and joining the San Antonio Harp Ensemble.
One of her teachers, Dr. Charlotte Marrow, became a mentor and rewarded her student with an amazing gift–a 1927 Lyon & Healy Style 22 Gold Semi-Grand harp. That harp was in dire need of refurbishing, having developed a crack. It's journey back to the factory in Chicago in 2015 became a story as the community rallied to help. Emily will be playing the restored instrument at the concert.
The little girl whose arms were too short to play the harp now runs her own studio, Harp of the Hills, where she teaches other young beginners. She performs at weddings, parties, and church events, and especially loves ministering to the elderly at hospitals and nursing homes.
But for her, the greatest joy is still sitting down to her beloved instrument and entertaining both her listeners and herself.
"I often get in a zone and really start playing for myself, for the sheer pleasure of it," she said. "Those are some of the best times. But I also enjoy performing. It is glorious!"
On February 19, in front of her hometown friends, she will do both.
Details:
Emily Jumes Oskins performs on her harp for the Fredericksburg Music Club on Sunday, February 19, 3:00 p.m., at Fredericksburg United Methodist Church, 1800 North Llano Street, Fredericksburg, TX 78624. The concert is open to all, with a freewill donation at the door.
www.fredericksburgmusicclub.com
Emily Jumes Oskins, harpofthehills.com