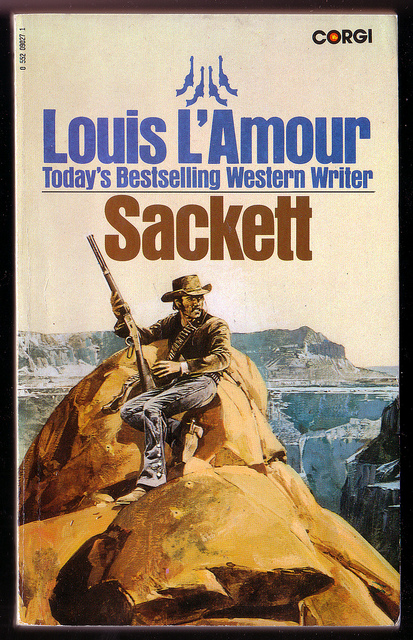 July 19, 2017–It took me 40 years to take Aunt Betty's advice.
Back when I was a know-it-all college student, I stayed overnight at my Grandma Cupp's house. Aunt Betty happened to be there, and we were enjoying one of those rare things–a conversation.
I say rare, because growing up in a family of 11, with half a dozen aunts, and dozens of cousins, individual interaction with any one of them was an elusive pursuit. Getting together meant pinochle, wiener roasts, and endless spirited games of Grey Wolf, the Midwest version of hide and seek.
So a one-on-one visit with a relative you knew, but didn't really "know," was special. When that happened, I was always surprised that aunts and uncles could actually be interesting.
Aunt Betty and I were discussing books. Being enrolled in Rhetoric 101, I was probably spouting off about one of my assignments, no doubt some pensive piece by Rachel Carson or George Orwell.
Aunt Betty happened to be holding a paperback she was reading–The Sacketts by Louis L'Amour. She saw me eyeing the cover.
"I know they're just westerns," she explained, "but I like to read them when I'm going to bed."
She sounded apologetic for picking popular fiction. I was embarrassed that she thought I was being judgmental, for I was a polite boy. But I also wasn't interested in reading pulp westerns at the time.
Looking back at that night in Keota, Iowa, I now recognize I missed three truths:
1) That someday I too would get older and have trouble falling asleep
2) That something being popular doesn't preclude it from being good
3) That Louis L'Amour was a deceptively brilliant writer
Eventually I got out of college and those three things happened. I aged. I rediscovered the joy of reading a book for pleasure. And I discovered Louis L'Amour. It's not just about L'Amour. You could fill in any writer that has committed the sin of being popular: Zane Gray, James Herriott, Mark Twain, or John Sandford.
But L'Amour represents that genre. For him, nearly every story was about the west. But within that spare frame, L'Amour painted pictures using colors we don't see in the suburbs.
From descriptions of common objects that sound like poetry:
"The sun, as though worn from its efforts of the previous day, pushed itself wearily over the jagged ridge in the distance and stabbed with white hot lances at the lonely stone building and the corrals."
To terse fragments that demonstrate the power of tight writing:
"He shot at me and missed. I shot at him and didn't."
With the rhythm and alliteration of a sentence so alluring you need to read it over and over to taste every word:
"The odor of stale whiskey mingled with cigar smoke lingered, lonesomely, in the air."
That's writing.
So on those restless nights, as my index finger slides along the shelf of books in deliberation, I find it passes by my college art textbook, The Birth of Civilization, and The History of Aviation, and more and more tugs out a well-thumbed copy of The Collected Short Stories of Louis L'Amour.
"The boy asked without curiosity–but because he knew that to live, an old one must be listened to and questioned sometimes."
Sweet dreams, Aunt Betty.