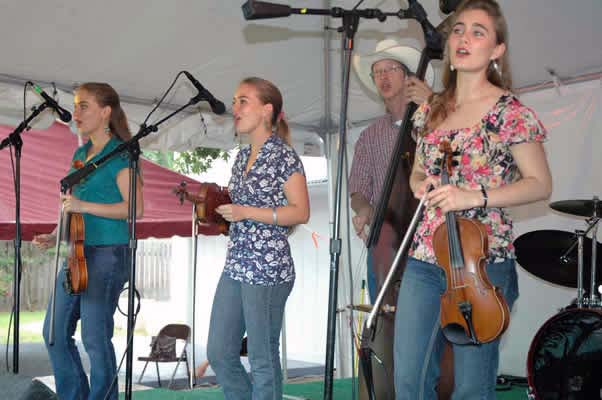 August 13, 2008–Every few years, the music business seems to discover its "next big stars." Just as often, the glow quickly fades. But the Quebe Sisters Band might be the group to make those stars align again.
These young ladies are what popular music can always use: fresh, eager, enthusiastic artists passionately in love with what they do, and thoroughly trained to do it well. As a bonus they are bright, polite, grounded, and well spoken.
The Quebe Sisters Band consists of Grace (22), Sophia (20), and Hulda Quebe (17), homeschooled sisters from north Texas who just started playing in 1999. The girls came from a family that had no musical performing experience at all. Ten years ago they happened to hear someone fiddling at a fiddle contest, and "just fell in love" with the sound.
Sherry McKenzie was their first fiddle instructor. Right from the start, Sherry saw that all three sisters demonstrated astonishing talent and determination and a real love of music. Soon her husband, Joey, three-time world champion fiddler, joined in the teaching and arranging. He now plays rhythm guitar for the band, with Drew Phelps on upright bass.
They are booked at fairs, festivals, corporate events and shows across America, and will come to Fredericksburg for the first time this weekend to play at the Pioneer Museum's Roots Music concert. I spoke with Hulda, who was only 7 when she first caught fiddle fever.
"Ever since that time we have just loved to play and had a great time doing it," she said. They love it so much that they practice six days a week. "It pays off. You always have more fun out jamming if you have done your homework. "
Musically, the band has struck a successful balance of staying true to the western swing tradition while adding its own fresh touches. One reviewer described it as, "Bob Wills meets the Andrews Sisters."
"We try to do a version of an old song that is true to the style – we don't like all new versions," Hulda said. "People say it sounds like stuff back in that era, but we like to add our own variations of different parts. Working out songs that way is one of unique things about this band. It is fun to do."
Their act is also inspirational to fans of all generations.
"Our style of music and what we do is really just try to be wholesome," Hulda said. "We want to be a real Christian influence. People come up say they like your music, the way you dress, and what you play – it is good, timeless music, and it never gets old. The people who played it were great musicians, and it will be played for generations. A lot people are attracted to that."
The band continues to build its following through CD sales and Internet videos. But they hold no illusions of breaking out into the mainstream music world.
"There are not tons of kids who are into this kind of music, so we are not really mainstream," Hulda conceded. Fame is not high on the list of priorities. They have already garnered interest from different music labels, but they "want to be careful" as they lay out their careers.
"We are not playing every single night, or playing music we don't want to play," she said. "We want to be successful, but still have fun. The main thing is to stay true to our values and to what we believe in."
The sisters are looking forward to their first visit to Fredericksburg, and they hope to attract a large audience for this weekend's show. Hulda had a message for the community.
"Tell them," she said, "that if they are fans of western swing they should come out. We play classic western music. Even if you have not heard of it, it is a great fun style, in a family atmosphere."
"And," she added, "we put on a pretty good show."